Scrub Daddy worth is approximately $250 million. It is a brand that has taken the cleaning world by storm. The company has become well-known in a short amount of time because of its innovative smiley-faced sponge and other cleaning tools.
In this article, we'll talk about how much Scrub Daddy is worth and how the company has done so well.
[powerkit_toc title="Table of Contents" depth="2″ min_count="4″ min_characters="1000″ btn_hide="true" default_state="expanded"]
Scrub Daddy – Origin
Aaron Krause came up with the idea for Scrub Daddy in 2012. As a musician, Krause had trouble with traditional sponges that were either too soft or too rough. He was inspired to create a brand-new variety as a result. He experimented with different materials and eventually came up with a prototype that would become the Scrub Daddy sponge.
Krause then appeared on the popular TV show Shark Tank in 2012, where he secured an investment from investor Lori Greiner. This gave Scrub Daddy the exposure it needed to become a household name, and the company's success has only grown since then.
Who is Aaron Krause?
Aaron Krause is the owner of Scrub Daddy. He is the son of two doctors in Wynnewood, Pennsylvania. He started making things when he was young, and later he went to Syracuse University to study psychology.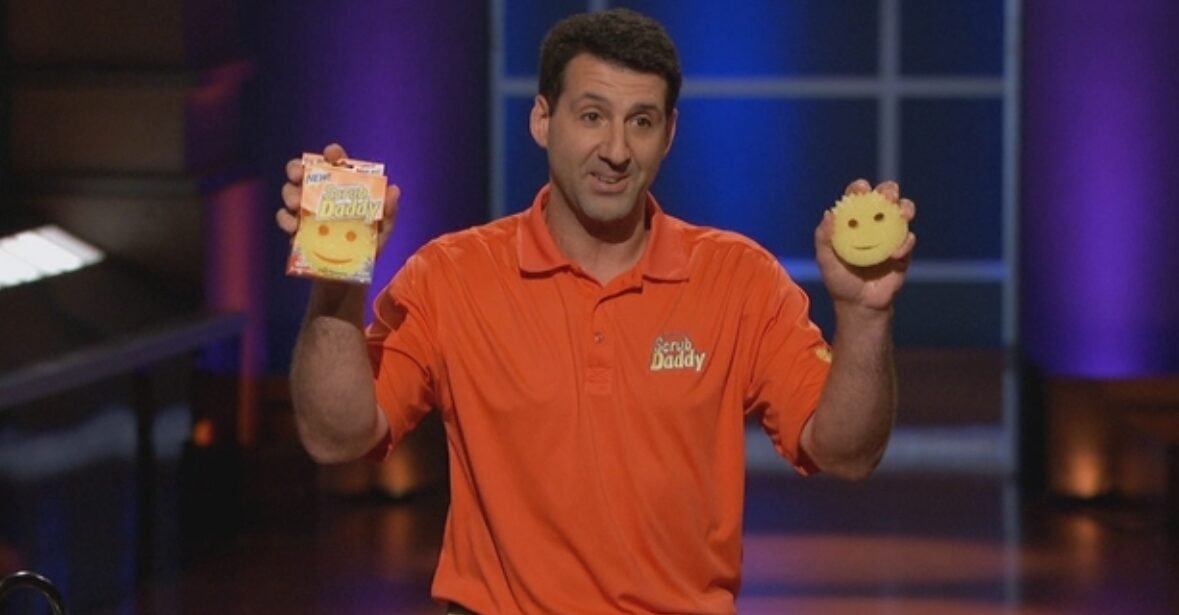 He went into business for himself washing cars after finishing school. This is where he first learned about how different cleaning materials work. He didn't like the buffing pads that were on the market at the time, so he made his own.
He got a patent on his buffing pads, which became the main focus of his business. Krause also made the tools he needed to make his new product, and he sold his car wash business soon after.
How Much is Scrub Daddy Worth?
| | |
| --- | --- |
| Brand | Scrub Daddy |
| Owner | Aaron Krause |
| Net Worth | $250 million (As of 2023) |
Scrub Daddy is privately owned, so its exact net worth is not known to the public. As of 2023, Scrub's Net worth is $250 million. But it's clear that the company has grown and been successful in a big way over the years.
Scrub Daddy made $209 million in sales in 2020. This shows how popular and successful the brand is. Scrub Daddy has done well in part because it has a strong brand identity.
The smiley-faced sponge has become a symbol for the brand and is easy to spot. This has helped Scrub Daddy build a loyal customer base that keeps buying its products.
Another factor that has contributed to Scrub Daddy's worth is its focus on sustainability. The company makes its products with materials that are good for the environment and has also put in place sustainable ways of making things. This has helped to attract customers who are environmentally conscious and value sustainable products.
What is the Reason of Scrub Daddy's Fame?
One of the main reasons for Scrub Daddy's success is its innovative product line. The Scrub Daddy sponge is a unique product that changes texture based on water temperature, making it effective for a wide range of cleaning tasks.
The company has also added new cleaning tools, like the Scrub Mommy sponge and the Scrub Daisy dish wand, to its line of products. Scrub Daddy has become well-known for more than just its unique products.
Shark Tank and QVC are just two of the many television programs to feature it. These platforms have helped spread the word about the brand and reach more people.
Future of Scrub Daddy
Scrub Daddy isn't slowing down anytime soon. The company keeps adding new products and getting in touch with new customers. In 2020, Scrub Daddy said it would work with Home Depot to make more people aware of its products.
The company also puts a lot of effort into coming up with new ideas and making new products that will make cleaning easier and faster. Scrub Daddy has already developed a line of cleaning tools for the automotive industry and is constantly looking for new opportunities to expand its product offerings.
Some Facts About Scrub Daddy's Worth:
Since Scrub Daddy is a privately owned business, its exact value is not known to the public.
In 2017, Scrub Daddy received an $11 million investment from a private equity firm, which valued the company at $170 million.
Scrub Daddy's lifetime sales went over $1 billion in 2020, which was a big deal for the company. Scrub Daddy's sales have grown steadily every year since it started in 2012. In 2018, the company reported revenue of $170 million, and in 2020, it reported revenue of $209 million.
Scrub Daddy has been successful because it has a unique product, good marketing, and a hardworking team.
The business has increased the variety of products it offers, including other cleaning tools, such as Scrub Mommy, Sponge Caddy, and Scrub Daddy Lemon Fresh.
Scrub Daddy's success has inspired other entrepreneurs and demonstrated the importance of adapting to changing markets and consumer preferences.
The company's commitment to innovation and expansion has allowed it to maintain its position as a top player in the cleaning industry.
Wrapping It Up
The success of Scrub Daddy shows how important new ideas, hard work, and good marketing can be. The company has grown from a side business to a major player in the cleaning industry, thanks to its unique product and dedicated team.
Although the current worth of Scrub Daddy is not publicly disclosed, its impressive revenue figures and investment valuations suggest that it is worth a significant amount. The success of Scrub Daddy shows that any business can do well if it has the right product, marketing, and team.
The company's dedication to new ideas and growth has helped it stay at the top of the cleaning industry. Scrub Daddy's success has also given other business owners ideas for how to do well. The business has shown that even a simple idea can be turned into a successful business if it is put into action well.
It has also shown how important it is to be able to adapt to changing markets and consumer tastes by expanding into new products and markets. Scrub Daddy's story of success is an amazing one, and its current value shows how hard its team worked, how dedicated they were, and how creative they were.
As long as the company keeps adding new products and entering new markets, it is likely to keep growing and doing well in the years to come. Scrub Daddy has shown that any business can be very successful if it has the right idea, works hard, and is run well.